FREE VoIP Fact Sheet
Learn the facts and figures behind how VoIP will improve your communications with Connectability's FREE VoIP Fact Sheet
Here's why you need our VoIP Fact Sheet:
Traditional business phone systems are on the way out. By sticking with an outdated system, you're stuck with a service whose reliability and support availability is slowly but surely disappearing. Furthermore, there's no easier way to future-proof your communications system than by adopting a VoIP phone solution that you can seamlessly integrate into your data network.
You will be able to do things with Connectability's VoIP solution that no traditional phone service can. Our VoIP Fact Sheet outlines the benefits you may not know about, as well as important statistics about how VoIP reduces costs, enhances small business mobility, and improves workplace productivity.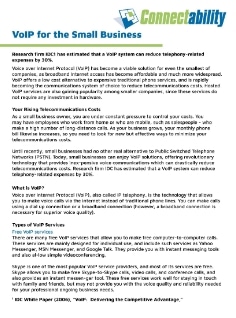 This Fact Sheet will help you:
Understand the hidden costs of traditional telephony in modern business
Learn how VoIP saves businesses money
Differentiate free VoIP from business VoIP
Gain insight into how you can properly integrate VoIP into your business
Our VoIP Fact Sheet will clear up any misconceptions about digital telephony while giving you important insight on its impact on your business. It's an excellent resource for any plans you have to improve your business communications. Our VoIP experts at Connectability can also help you adopt VoIP for your business seamlessly. We'll help plan your transition, map out your communications infrastructure, and implement your new VoIP system at your convenience.
Get Your FREE Checklist Now!
Download The Free Report Now!
Important! We hate spam as much (or more!) than you and promise to NEVER rent, share, or abuse your e-mail address and contact information in any way.
Provides Multiple Tech Solutions At Record-Breaking Time
We engaged Connectability early in 2015. We have been very happy so far. The response time is swift and staff are very knowledgeable. I like the way Connectability offers multiple solutions to issues. It makes the decision process easier – who doesn`t want that when it comes to their IT concerns?
Cathy Matyskiel
Office Manager
MD+A Health Solutions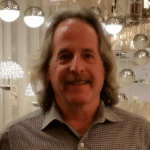 We have been with Connectability for almost two years. They have provided us with great service and the comfort of knowing that if we have a problem, they quite often know about it before we do, and fix it with minimal down time, if any at all.
Michael Gladstone
General Manager
Royal Lighting